Tiger Bill Reviews
Purdie Good Cookin'
From Memphis Soul Stew to Portland Clam Chowder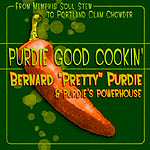 It was a "few" years ago. I was on the road with my first traveling band. I was rooming with the trumpet player in the band who had brought along some of his favorite recordings on tape. One tune, in particular, stood out in my mind as one of the coolest I had ever heard. It was something called "Memphis Soul Stew." I asked my roommate the name of the album and if he knew who was playing drums. He told me it was "King Curtis, Live at the Fillmore West," with Bernard Purdie on drums.
The drummer was playing a funky groove of a kind I had never heard before. For me, that was it. I was hooked on funk and Bernard Purdie! His was definitely a style worth learning. The feeling I got from his playing was tough to describe but it was a "natural" high. If I could bottle it and sell it, I'd be rich. Better yet, I went out, bought the album and studied Purdie's style.
That was my first encounter with Funk as defined by Bernard Purdie, Mr. Funk himself. As I said, that was a "few" years ago. Today, Bernard continues to prove that he's still the man with the release of his CD Purdie Good Cookin': From Memphis Soul Stew to Portland Clam Chowder.
The CD was recorded live (as the best albums are) at Jimmy Mak's on November 8th, 2002 in Portland, Oregon. It stars Bernard "Pretty" Purdie and Purdie's PowerHouse, which consists of Thara Memory on Trumpet, Renato Caranto on Sax, Louis Pain on Hammond B3, Jay "Bird" Koder on Guitar, Linda Hornbuckle on Vocals, and Rob Paparozzi on Harmonica/Vocals.
When I found out that the title of the first cut on the CD was an updated version of "Memphis Soul Stew," I couldn't wait to hear it. Following is my review.
Memphis Soul Stew
Because the original version of this tune (with King Curtis) was what first introduced me to Purdie's unique style of playing, I couldn't wait to hear the new version. The cut, which is seven minutes and fifty seconds long, starts out promising enough with Bernard introducing each of the band members as they add their unique musical ingredients to the Stew.
On the original version, once all the ingredients are mixed together and reach that rolling boil, the band blows the lid off the pot in an all out funk fest! Imagine my disappointment when this new version fades out a mere eight seconds after the high point of the grooving begins! I don't know why Bernard chose to use this tune only to introduce the band members and cut out the "best" part, but I was disappointed. However, this turned out to be my only disappointment.
Jambalaya
Country star Hank Williams, who wrote this song, never could have imagined this version of his hit. Bernard starts out with a funky New Orleans style groove and is joined by Rob Paparozzi on harmonica and vocal, with assistance in harmony from singer Linda Hornbuckle. This is home cookin' at its finest!
Kidney Stew Blues
If Bernard "Pretty" Purdie is Mr. Funk, then Rob Paparozzi has to be Mr. Blues not only for his smokin' vocal performance but for his harmonica playing, which is why he is considered to be the greatest harmonica player in the world. In fact, Rob is equally adept at blues, funk, pop, or rock.
Breakfast With The Blues
Opening with an intro by guitarist Jay "Bird" Koder, this tune features vocalist Linda Hornbuckle from Portland, Oregon. When Bernard first heard her sing in 1994, he compared her talent to that of Aretha Franklin. Not that she sounds like Aretha, on the contrary, she has a sound all her own, as you'll hear in her version of Breakfast With The Blues.
Grits & Gravy
This tune, written by Thara Memory, is a slow tempo instrumental funk number that not only features Thara's fine trumpet playing, but the rest of the band members as well.
Home Cookin'
Kickin' it up a notch to a medium tempo groove, Bernard continues to provide his unique rhythmic accompaniment to vocalists Rob Paparozzi and Linda Hornbuckle. Renato Caranto shows why he was a four year winner of the Cascade Blues Association's Award for best saxophonist, in his playing on this cut.
Red Beans and Rice
This medium tempo instrumental builds around a groove started by guitarist Jay "Bird" Koder who is joined by Bernard on drums, Louis Pain on the Hammond B-3, Thara Memory on trumpet, and Renato Caranto on sax. Bernard gets to stretch out a bit in this one. I've loved red beans and rich every since my first gig in Puerto Rico. Tasty stuff.
Givin' Up Food For Funk
Rob Paparozzi and Linda Hornbuckle handle the vocals while the rest of the band joins in on this medium tempo cooker. Bernard takes this one out with a solo.
A Little Soul Food
This up tempo selection features singer Linda Hornbuckle with assistance from Rob Paparozzi on vocals and harmonica. Renato Caranto and Rob trade fours between sax and harmonica, and Louis Pain also gets a chance to stretch out on his Hammond B-3 organ.
Mama's Cookin'
Bernard, who has backed some of the most famous singers in the business, often jokes about never being allowed to sing. Until now! This original tune was written and sung (or rather, spoken) by Bernard. It tells his story of growing up in a real cookin' family. Listen, in particular, to the simple but hip rhythmic pattern in the ensemble horn part.
Hot Popcorn
This tune, written by guitarist Jay "Bird" Koder, is an up tempo instrumental that gives each band member a chance to burn it up.
Portland Clam Chowder
This closing number was written by keyboardist Louis Pain and is a medium tempo instrumental groove that gives the cast of stellar musicians a chance to stretch out.
Purdie Good Cookin' Bottom Line
With the exception of Bernard and Rob Paparozzi, who are from New Jersey, the musician's on this CD were hand selected by Bernard from among Portland's finest musicians and they are truly a class act. Even with my disappointment in the editing of the "Memphis Soul Stew" track, this CD is prime Purdie. Drummers (and all musicians of all styles) can learn a lot by listening to this CD and non-musicians will enjoy it too. It really cooks, in a way that is all too rare today. Purdie Good Cookin' provides twelve tasty selections that I highly recommend.
Purdie Good Cookin' retails for $15.00. To hear sample audio from the CD or to purchase it directly through Bernard Purdie's Web site, click on the link in the sidebar on this page.
Until next time: Keep Cookin' and Stay loose!
Become a Free Member of the largest, most Comprehensive Drum Site on the Web
Learn TigerBill's Innovative Tension Free Drumming and take your chops to the next level
Get TigerBill's Free Info-Packed Newsletter, Monthly Chances to Win Valuable Drum Stuff
& Much More...