Tiger Bill Reviews
Simon Phillips Complete
DVD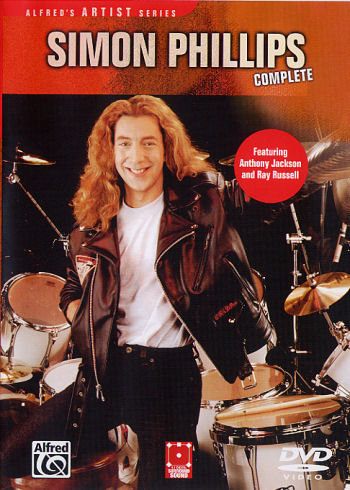 This DVD features two of Simon's previously released videos (Simon Phillips and Simon Phillips Returns) on one disc. Newly added is the remixing in Dolby 5.1 surround sound by Simon himself along with footage of Simon in the studio, explaining the concepts behind 5.1 surround sound and his own mixing process.
Let's check it out!
Part One: Simon Phillips
This segment of the DVD contains the entire footage from the original video release Simon Phillips. Covered are Simon's approach to double bass drumming including practicing and tuning; timekeeping and playing with a click; and free form soloing. Simon also plays three songs during this segment (along with Anthony Jackson on bass and Ray Russell on guitar) and includes detailed explanations of what he's playing along with his approach to each tune, which provides practical lessons for drummers of all experience levels.
Part Two: Simon Phillips Returns
This segment of the DVD features the entire footage from the original video release Simon Phillips Returns. Simon covers his approach to snare drum tuning; practicing rudiments including single, double, triple and four stroke rolls, and paraddiddles; finger technique; playing in odd time signatures including 5/4, 7/4, 6/8, and - with a nod to Don Ellis - 33/8! Simon also includes a free form solo in this section along with three more songs (accompanied by Anthony Jackson on bass and Ray Russell on guitar), complete with detailed explanations and breakdowns of the rhythmic elements.
Special Features
This section includes an Introduction to 5.1 Surround Sound by Simon Phillips himself, Performance Only Segments, and a PDF file containing an interview with Simon from ModernDrummer Magazine that can be accessed by placing the disc in your computer DVD drive.
Audio Setup
This allows you to select between 5.1 Surround, a Stereo fold down from 5.1, and the Stereo track from the original 1992 video version.
Bottom Line: Simon Phillips Complete DVD
This DVD contains solid educational material, tips, and advice that can be of use for drummers of all experience levels. I recommend it whether or not you are a fan of Simon Phillips.
And at a retail price of $29.95 for 2 1/2 hours of footage, it certainly won't break the bank. This item is also available online at a substantial discount through:
Until next time: Stay loose.
Become a Free Member of the largest, most Comprehensive Drum Site on the Web
Learn TigerBill's Innovative Tension Free Drumming and take your chops to the next level
Get TigerBill's Free Info-Packed Newsletter, Monthly Chances to Win Valuable Drum Stuff
& Much More...