Tiger Bill Reviews
Spinology
How To Master Spinning Drumsticks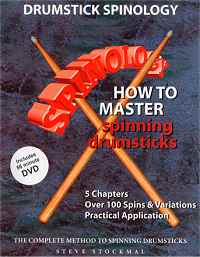 I have always had a fascination with stick spinning and although I have perfected a basic single revolution spin and I utilize tossing and bouncing the sticks off the drums for visual effects, I never could really get comfortable with more advanced stick spinning techniques. To make matters worse, it has been difficult to find any decent material that actually teaches the advanced spins.
Then, I came across a combination book/DVD titled Spinology: How To Master Spinning Drumsticks written by Steve Stockmal. Subtitled "The Complete Method to Spinning Drumsticks," I wondered if this would actually teach what it promised?
Read my review on Spinology and find out.
Part One: Preparatory Material
The book is broken down into two major sections. In this section, Steve gives you a diagram of the hand and the stick complete with definitions of the terms and symbols that he uses to teach the various spins throughout the book and on the included DVD. He defines the terms he uses to tell you what direction to move the stick like forward, reverse, in, out, down, under, etc. He also offers important observations covering everything from how to approach the practicing of your spinning skills to what to do should you drop a stick during a performance.
This part concludes with an explanation of Steve's favorite warm up exercises, divided into techniques you can do both with and without sticks. If you're one of those DrumHeads who likes to skip introductory material and get down to the good stuff, I don't recommend it. Without an understanding of Steve's terms and naming conventions, you will not be able to understand Steve's instructions in the rest of the book.
Part Two: Spinning
This section is broken down into five chapters, as follows:
Chapter One: The Basic Spins
Steve explains how to accomplish fifteen primary drumstick spins, most of which have a photo along with a verbal explanation of the technique. However, the photos really won't make much sense until you watch the video on the included DVD. The DVD shows each spin at normal speed and in slow motion.
Chapter Two: Variations
As the title says, Steve teaches 70 variations on the basic fifteen patterns you learned in the previous chapter as a starting point for you to develop your own ideas.
Chapter Three: Applications
If you thought stick spinning was only visual, think again. Steve gives you ideas on how to incorporate the spins into your drumming, whether your playing a basic groove or a solo. He also includes a page of one-handed rhythms to start you off on your own creative path, as you learn to play a complete groove on the drumset with one hand while spinning with the other.
Chapter Four: Combinations
In this chapter, Steve offers some of his favorite ways of combining various spin patterns to form a longer routine. Again, once you get these down Steve encourages you to develop your own.
Chapter Five: Humor
This is a bit of a strange chapter as it really adds nothing to your knowledge of spinology. It's just what the title says, a chapter on Humor. Stick humor to be exact.
At A Glance
This section lists all the exercises you've already learned in the book using name only without the instructional descriptions. Once you learn the spins, this chapter can serve as a checklist for your practice sessions.
The Included DVD
There is no way you could learn these spins without video demonstrations and everything you need to know is covered on the included DVD. Steve opens with a performance of his Spinology technique as a teaser and then proceeds to show how to do it. The DVD follows along with the exercises in the book, step-by-step. Each spin is shown both in slow speed and normal motion, which makes it easy to understand. Note: If you don't own a DVD player, you can get a VHS tape in place of the DVD.
The Spinology Bottom Line
So what do I think of Spinology? A lot. It is hands-down the best book/DVD on the art of spinning that I have seen. Steve Stockmal, the author, is a drummer whose stick spinning hobby became the basis for this book and he is quite an expert spinologist himself, which he demonstrates so convincingly on the included DVD.
The Spinology book/DVD retails for $29.95 and, for what it teaches, is a bargain at that price.
It is available from SMG Publications, which is Steve Stockmal's company. If you are looking to add some cool spinning techniques to your repertoire but don't know how, Spinology will show you the way. Besides looking good, stick spinning is great exercise for development of finger technique (as in the Gladstone system). Either way, you can't lose.
Until next time: Stay loose!
Become a Free Member of the largest, most Comprehensive Drum Site on the Web
Learn TigerBill's Innovative Tension Free Drumming and take your chops to the next level
Get TigerBill's Free Info-Packed Newsletter, Monthly Chances to Win Valuable Drum Stuff
& Much More...