Tiger Bill Reviews
Takin' Care of Business
DVD
Drumming for a Mega Group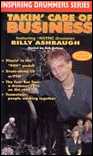 I guess most every drummer has dreamed of making it big, at one time or another. Imagine playing for an audience of 15,000 or more, every night? What's life like touring the country with a mega group?
Takin' Care of Business, the third video set in the Warner Bros. "Inspiring Drummers Series," takes us behind the scenes and offers advice (and inspiration) on what it takes to land exactly such a gig. Bob Gatzen, who produced this video (along with "Common Ground" and "Be a DrumHead" in the same series), is himself a confirmed DrumHead - and it shows. His videos demonstrate how the great drummers get to the source of their creativity. (And most of you know how I feel about creativity, by now.)
Because Bob did such a good job on his first two videos (see the Related Resources sidebar), I was really looking forward to this one. It features mega pop group *NSYNC drummer Billy Ashbaugh. Was I impressed? Read on and find out.
Drumheads One and All
The video opens with a quote from Billy who says, in part, "One thing I have learned through drums is that hard work and dedication really pays off." We soon find out that Billy is a DrumHead too. He's extremely dedicated to his drumming and practices every chance he gets. (He reminds me of me.)
Throughout the video, other professional Drumheads offer their words of wisdom, including: Steve Smith, Rick Marotta, Alex Acuna, Billy Martin, Vinnie Colaiuta, Eric Singer, Ryan Smith, and others. That's why they call it the "Inspiring Drummers Series." If these quotes don't inspire you to want to practice and play your best, nothing will.
The Challenge
The next segment shows *NSYNC member Justin Timberlake and Billy facing off against each other in a "challenge" from their HBO special: Justin on vocal versus Billy on drums! Following the battle, Billy performs at a drum clinic where he plays along with the *NSYNC soundtrack to "Bye, Bye, Bye." Over the track, Billy explains the details of his approach to the groove.
The V-Room
As in the first two videos in the "Inspiring Drummers Series," Bob Gatzen invites us into the Virtual Practice Room (V-Room). This is where we first meet Billy Ashbaugh. To prove to the world that Billy is more than just a "pop" drummer, Gatzen wrote some challenging music for him to play. Here, Billy does justice to "64219," the first of Bob's originals.
The Tour
If you've ever wondered what life would be like touring around the country with a mega group like *NSYNC, you'll enjoy this segment. Billy gives the grand tour of the *NSYNC bus, which comes complete with dual refrigerators and a fully equipped Play Room. He also reveals his bunk, which includes a built-in TV and video player. These guys really travel in style!
Billy's Practice Space
DrumHead Billy explains his obsession with practicing and shows us the practice pad setup he uses on the tour bus. He also clues us in about life on the road and how he often needs to get creative to get his practicing done.
Work Ethic
We go back to the V-Room to check out Billy's groove on another *NSYNC hit, "Digital Getdown." Billy explains his overall approach to learning new grooves and how he stays motivated.
Justin and Joey
*NSYNC member Justin Timberlake explains how he and Billy work together to develop the beats they use during the show, especially in the vocal/drum challenge segment where Billy really gets a chance to shine. It turns out that Justin is the one responsible for using live drums on the *NSYNC CDs: Yeah, Justin!

Justin also pays Billy a huge compliment, "Whatever I seem to be thinking on stage, Billy seems to play it." Justin continues, "Without a drummer, there's nothing. Billy complements the group. He's the foundation of the band. In the four years he's been with us, I've NEVER heard him mess up." *NSYNC performer Joey Fatone agrees with Justin, as he confesses that he himself is - you guessed it - a DrumHead too!
It's Gonna Be Me
Billy treats us to another performance of an *NSYNC hit, filmed at a drum clinic. After the clinic, *NSYNC fans give their reactions to the on-stage performance of "The Beat Box," Justin and Billy's ultra cool vocal/drum challenge. Billy closes the segment playing another *NSYNC hit, "This I Promise You."
Young Drumheads
There's nothing like watching little ones play the drums to give Drumheads (young and old) inspiration. Check out these kids, who range from five through twelve years old. They're already playing their creative butts off! This segment also introduces Billy's wife, Jenie, who happens to be a professional drummer herself! She cooks on a funky Gatzen original called "Rockit." And to show how different drummers interpret the same song, the video alternates between Billy and Jenie.
Teamwork
As with previous videos in the "Inspiring Drummers Series," this one also includes an audio CD. This CD contains original instrumentals and *NSYNC hits remixed for you to practice and play along with.
The video, however, lacks a detailed explanation of the concept of Practice Time Management (PTM™). I guess they're assuming viewer familiarity from the prior "Be a DrumHead" video. Therefore, the PTM tracks on the audio CD may be a source of confusion.
In a nutshell, PTM™ is the practice of breaking down a tune into compositional sections, allowing you to work on each major section separately. This helps you learn a tune faster and more efficiently, thus maximizing your practice time. (For more on PTM™, see my review of "Be a DrumHead" in the Related Resources sidebar.)
The *NSYNC Band
Members of the *NSYNC band discuss the band, Billy's playing, and the importance of getting along with each other - on stage and off. They also let us in on Billy's meticulous practicing and playing habits.
Drum Clinic Q & A
Billy lends his interpretation to Hipotomus, another original penned by Bob Gatzen to show off Billy's chops. After which, he answers questions from middle school children at a drum clinic. Billy's wife, Jenie, is asked for her advice on being a female drummer.
Teamology
Following Billy's workout on another *NSYNC hit, "No Strings Attached," he discusses the importance of working together with the other members of the band. This gives Bob the opportunity to add another new term to his DrumHead vocabulary - Teamology.
Rockit Out
Billy discusses (and demonstrates) his approach to playing the *NSYNC tune "Space Cowboy." And just before Billy closes the video with Bob Gatzen's "Rockit," he explains, "Every drummer has their own bag of tricks. I like to play rhythmic patterns with my hands while filling in the spaces with my foot. I tend to use this all over the place."
The Bottom Line
When it comes to drumming, talent is more a matter of practice than anything else. The correct kind of practice. You can practice long hours and get nowhere, or you can maximize your practice time and quickly get where you want to go. It's all up to you.
If you're looking for a set of explicit drum lessons, this video is not for you. But if you're looking for important advice on how to make it in the drumming biz - from better practice routines to building contacts to working with others as a team - plus a behind-the-scenes look at what it's like to play for a mega pop group, then Takin' Care of Business is for you.
The video provides the necessary inspiration while the accompanying CD provides the perspiration, in the form of songs (minus drums) that you can practice with (Including *NSYNC tunes to sharpen your "Pop" chops as well as some challenging original compositions penned by producer/composer/drummer/inventor Bob Gatzen). Plus, you'll get a close-up look at the talents of drummer Billy Ashbaugh.

I just finished watching Takin' Care of Business and now I'm ready to do just that! So, I'd say this DVD has hit the mark. And at a retail price of $19.99, it should be a one-gig buy with cash left over.
Until next time: Stay loose.
Become a Free Member of the largest, most Comprehensive Drum Site on the Web
Learn TigerBill's Innovative Tension Free Drumming and take your chops to the next level
Get TigerBill's Free Info-Packed Newsletter, Monthly Chances to Win Valuable Drum Stuff
& Much More...