Tiger Bill Reviews
The Unreel Drum Book/2 CDs
Featuring the Music of Randy Waldman and the Drumming of Vinnie Colaiuta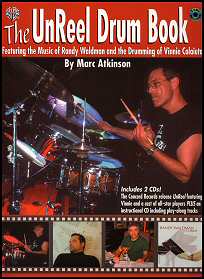 Vinnie Colaiuta is one of the undisputed masters of drumming and this book not only features transcriptions of Vinnie's polyrhythmic playing style from Randy Waldman's CD "UnReel," it also includes warm-ups and exercises that will help you reproduce Vinnie's complex drum solos. The book also includes two audio CDs, one being the Concord Records release "UnReel" starring Vinnie with an all-star cast of musicians, and the other an instructional CD including play-along tracks.
Let's take a closer look at The UnReel Drum Book, from Warner Bros. Publications.
Preliminary Exercises
The first section of the book contains exercises to help you warm-up both your hands and feet using single strokes, doubles, and flams.
Rhythm Scale Exercises
The next section contains exercises that will help you develop the ability to play the various note groupings from groups of one through groups of sixteen (referred to as Rhythm Scales), through the application of those groupings to foot ostinatos and polyrhythms. These exercises are designed to prepare you for playing the transcriptions of Vinnie's drum solos that follow.
Transcriptions of Vinnie's Solos
Much of the remainder of the book contains the actual drum charts (by Randy Waldman) for eight of the twelve songs that appear on Randy's CD "UnReel," along with actual transcription of each of Vinnie's drum solos (transcribed by by Marc Atkinson) and a breakdown of each solo (also by Marc).
There are two audio CDs included with this book. The first is the actual Randy Waldman "UnReel" CD and the second is an instructional CD. The instructional CD contains audio examples of various exercises from the book that includes:
*** Rhythm Scale played over one and two beats
*** Rhythm Scale played as doubles over four beats with a Rhumba Clave foot pattern
*** Paradiddles in the hand against a Samba foot ositinato
*** Rhythm Scale with the feet against sixteenth note hand ostinato and many more
Working Out Polyrhythms
In this final section of the book, Marc explains an easy method of working out the polyrhythms played by Vinnie using what Marc calls his A-B-A method.
The Unreel Drum Book: Bottom Line
As you've probably caught on to by now, The UnReel Drum Book is not for beginners nor is it intended for DrumHeads who cannot read music. However, I highly recommend it to all intermediate and advanced players who can read. Not only is it terrific for fans of Vinne Colaiuta, but it provides a challenging workout for anyone interested in improving their chart reading, creative soloing, and polyrhythmic coordination skills.
The UnReel Drum Book contains 144 pages, includes two audio CDs, and retails for $34.95. Well worth the price. Or you can click the button below to purchase The UnReel Drum Book at an incredible discount online:
Become a Free Member of the largest, most Comprehensive Drum Site on the Web
Learn TigerBill's Innovative Tension Free Drumming and take your chops to the next level
Get TigerBill's Free Info-Packed Newsletter, Monthly Chances to Win Valuable Drum Stuff
& Much More...