Tiger Bill Reviews
Back to Basics
By Dave Weckl
An Encyclopedia of Drumming Techniques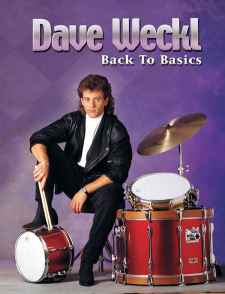 For nearly twenty years Dave Weckl has been one of the most respected drummers in contemporary music. This DVD is a re-release of Dave's work that was originally released on VHS and includes eight chapters plus some bonus features that make the DVD format a vastly superior instructional medium.
Let's take a look.
Opening
Dave opens up with a drum solo that shows off his technical prowess and then treats us to a display of his groove-ability as he plays along with a track from his Contemporary Drummer + One album (also available from Alfred Publishing).
Hand Technique
Sitting behind a snare drum, Dave discusses the difference between matched and conventional grip, and covers stick basics such as finding the ideal balance point and gripping the sticks. He also demonstrates the two-finger control method, as taught to him by James Petercsak, and includes exercises to help you develop the technique. He then demonstrates his favorite rudiments, which are the Single Stroke Roll, Double Stroke Roll, Single and Double Paradiddle, Flam, and Buzz Roll, and shows how he applies them to the drumset.
Dave reintroduces what he considers to be a "lost art": Drumming with Brushes. After playing his favorite brush techniques on the snare drum alone, he applies them in context on the kit as he plays along with another track from his Contemporary Drummer + One album.
Foot Technique
Seated behind a bass drum and hi-hat, Dave explains his style of foot technique in which he uses his toe on the footboard with his heel up. He also demonstrates his favorite foot exercises and briefly discusses his double bass approach and the mechanics of muffling the kick drum.
Put the Two Together
Dave briefly discusses and demonstrates some exercises from his two favorite books for developing coordination on the drum set.
Drum Kit Setup
In this segment, Dave covers the whys and hows of his drum kit and cymbal set up. He demonstrates his point while playing both jazz and rock grooves and concludes with a drum solo incorporating all of the techniques previously discussed.
Interview
Dave talks about his early days in drumming, his approach to practicing, choosing a drum teacher, what it takes to keep your inspiration going, and more.
Tuning
Using a tom that is totally out of tune, Dave shows us how to tune it into playing shape.
Conclusion
Dave imparts some valuable advice and then proceeds to "take it home" by playing along with another tune from his Contemporary Drummer + One album.
Special Features
These include:
"Time Check" featuring Dave playing with the Buddy Rich Big Band
A Funk/Rock Demo with Dave on drums and Walfredo Reyes Sr. on percussion
"Questionable Arrivals" featuring Steve Smith
The complete Alfred Publishing Dave Weckl Catalog
Printable exercises from Dave's out of print books
Internet connectivity
Back to Basics Bottom Line
The title "Back to Basics" fits this DVD well. It's perfect for beginning drummers and even some intermediate players may be able to pick up a tip or two along the way. At a retail price of $24.95, Back to Basics is a solid value. I recommend it. Purchase it online at the following link:
If you 're interested in continuing your studies with Dave Weckl, check out the second DVD in the series:
Until next time: Stay loose!
Become a Free Member of the largest, most Comprehensive Drum Site on the Web
Learn TigerBill's Innovative Tension Free Drumming and take your chops to the next level
Get TigerBill's Free Info-Packed Newsletter, Monthly Chances to Win Valuable Drum Stuff
& Much More...