Tiger Bill Reviews
Wicked Beats
DVD
by Gil Sharone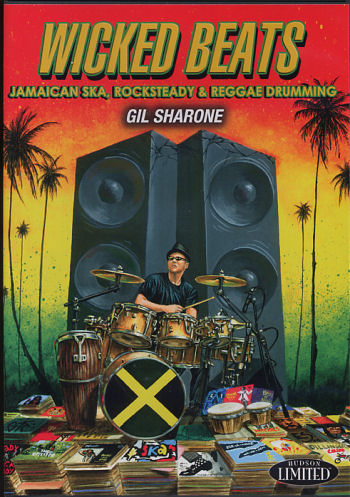 I first met Gil when we were both playing at the Cape Breton International Drum Festival. It was actually his first drum clinic and he was a bit nervous about it but it turned out great! I interviewed there and told him that he would go far in this business and it turned out I was right! Since then Gil has performed at a ton of drum clinics and Fests and even replaced Travis Barker in Blink-182 when he was sidelined with injuries.
Now I'm happy to see that Gil has put out his first DVD, which is on a subject he knows very well. Let's check it out!
Wicked Beats
On this DVD, which is a complete guide to the Jamaican styles of drumming, Gil teaches the classic "riddims" that are essential for an authentic sound. Throughout the DVD Gil not only demonstrates by performance but includes instructional breakdowns and in-depth commentary that allows you to learn these styles and apply them to your own bag of tricks. Includes appearances by Lloyd Knibb, Carlton "Santa" Davis, Adrian Young, Shaka Man, Phil Harmonic, Michael "Miguel" Happoldt, and Roger Steffens.
Main Chapters
1- Nyabingi
2- Jamaican Boogie
3- Burru
4- SKA
5- Rocksteady
6- Reggae
7- Reggae Beats As Exercises
8- Dancehall
9- 2-Tone SKA
10- 3rd Wave
11- DUB
Bonus Features
1- Words of Advice
2- Sound and Touch
3- Hip-Hop/Reggae Beats
4- Performances
5- Interviews
Also includes a detailed eBook with transcriptions, play-along tracks, and photos.
Wicked Beats: The Bottom Line
Gil has a real feel for the Jamaican styles and his love for the music comes across in his detailed instruction on this DVD. Highly recommended to drummers interested in this genre and even those who aren't will find many ideas and patterns they can adapt to their own favorite musical styles.
A great value at its retail price of $24.99. Click the link below to purchase it online:

Stay loose!
Tiger Bill
Become a Free Member of the largest, most Comprehensive Drum Site on the Web
Learn TigerBill's Innovative Tension Free Drumming and take your chops to the next level
Get TigerBill's Free Info-Packed Newsletter, Monthly Chances to Win Valuable Drum Stuff
& Much More...