The Tiger Interviews Billy & Jenie Ashbaugh
There's a lot more to this drummer than *NSYNCH!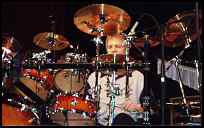 Billy Ashbaugh, although best known for his drumming with *NSYNCH, has been getting around lately with a video to his credit (see my review of Billy's video Takin' Care of Business in the sidebar), drum clinic tours, and plenty of other work. I interviewed Billy backstage in his dressing room at the Modern Drummer Festival and his wife, Jenie, who also happens to be a drummer joined us, too. I couldn't ask to meet a nicer couple.
Here's what they had to say.
TB (Tiger Bill): What's going on, gig wise, in the near future?
BA (Billy Ashbaugh): Following this festival, I'm doing a clinic tour down the East Coast. Then I'll have two weeks off to prepare to rehearse with Pat Benatar for a three month tour with her. In October, I hope to be doing some stuff with House of Blues to help inspire children and Kathy Rich (Buddy 's daughter) asked me if I'd like to be involved with the Buddy Rich Big Band tour. So I should be doing that in November. And either in January, March or April of next year, *NSYNCH will probably be going out on tour again.
TB: I'm sure you've been asked this question many times before but I can't resist, how did you get the gig with *NSYNCH?
BA: I knew their manager, Johnny Ray. Back in the early '90s I toured with a group called Snap (they had that rap song "I Got the Power") and my wife and I both played with him.
TB: Was Jenie your wife at the time?
BA: Yes, as a matter of fact she got me the gig. Johnny had an all girl band and my wife was the drummer but she kept taking so much about her husband that he brought us both out and we did dueling drums. Anyway, that when that fizzled out we went back to playing clubs. Later, when Johnny got *NSYNCH together he gave me a call and asked me if I'd be interested in playing drums in this new group. I said absolutely. I just lucked out knowing the right person at the right time and he happened to give me a call. I mean, who knew *NSYNCH would turn into what it is. I was just lucky enough to get involved. In October of 1997, I went to Germany with *NSYNCH and I remember thinking, if I could just get one month's work I'll be happy! And here we are five years later, you know? It was a lot of luck for me.
TB: What type of music do you enjoy listening to?
BA: I listen to a little bit of everything. Lately I've been listening Kim Burrell, who is a gospel singer. Her drummer, Doobie Powell, is incredible. Great pocket, great player. I listen to Weckl, Dennis, anything with Steve Gadd, and I like a lot of the old Level 42. I love Phil Gould. He laid down some nice grooves on some of the early records. I also listen to Toto and Prince, with John Blackwell. Billy Ward just gave me a CD and I can't wait to check it out. I saw him perform on the Modern Drummer Festival 2000 DVD and I was just blown away.
TB: Once *NSYNCH is over and you're out on your own, what kind of music would you like to play?
BA: I love funk-fushion stuff and I also miss playing the blues. I was in a blues band led by a guy who was a lot like Stevie Ray Vaughn and we did some funk-rock blues, New Orleans stuff, and some straight ahead shuffles. I did that for about three years and I really miss it. As a matter of fact, he called me about his new album recently and I'm hoping I get the chance to do it.
TB: Were you self-taught?
BA: Mostly self-taught. I took lessons for about two years in 1989 that changed everything. I learned how to read and was introduced to linear patterns, Salsa, Reggae, Swing, and a lot of great books. It really opened up a lot of doors for me. After those two years, I basically just went out and bought tons of videos and books and started teaching myself.
TB: Do you have any tips for up and coming drummers?
BA: Find a good teacher. One that will let you get behind the drum set right away because that's your passion for the instrument. I'm not downplaying the rudiments, they're extremely important and I practice them all the time, but you need to fulfill the need that drew you to the drums and that's to sit behind the kit. You've got to practice rudiments on the pad and sit behind the kit to hear the different voicings, learn to play a rim shot, learn to work the hi-hat and learn how the pedal feels against the bass drum. Find someone who will keep it fun and interesting for you and who will let you get behind the kit right away. And my best advice if you get bored or frustrated and it's no longer fun, whether you're with a teacher or in a band, move on. I stayed at too many gigs in the past for too long. Long after there was no enjoyment at all, either musically or spiritually. At that point, I was just doing it for the paycheck. Looking back on it, it's probably the worst thing I could have done. If I had the guts to pull away, I should have let the money go and figure out another way to make money and concentrate more on making myself happy behind the instrument. I would have been better off. Always have fun and keep your spirits up and you can't lose. That's my advice to the drummers starting out.
TB: What do you think of the World's Fastest Drummer Contests?
BA: That's fine, that's cool but that's personally not my bag because I'm not a big chops kind of player, you know. I had to force myself to do this solo today. I don't consider myself a soloist, I've always considered myself a groover and that's always been a big appeal for me whenever I hear someone behind the kit. Anyone who plays what's right for the music like Jeff Porcaro and Steve Gadd. To me, that's my love and passion on the drums. But the contests are cool, I think it's great. To be able to play that fast is amazing. I look at it as almost a different art form in itself, you know what I mean? The hours these guys must put in to pull that off! I've got a lot of respect for them even though I wouldn't have any desire to do that, it's still amazing.
[During that last question, Jenie, Billy's wife and a solid drummer in her own right, joined us.]
TB: I've got a question for the both of you, how did you two meet?
JA (Jenie Ashbaugh): It was in a cover band in Miami.
BA: We were playing in a club that Prince used to own.
TB: You were both on the same gig?
JA: Yes. Billy was playing drums and I was playing percussion. The first thing Billy said to me was 'Are you the singer?' Because I was a woman, he assumed I was the singer. I said no! I'm the percussionist!
BA: Yeah, I didn't start off on a good foot.
JA: But then we started talking and he found out that I was also a drummer, we talked and talked. He just loves to talk shop.
BA: And the rest is history.
TB: What's life like with two drummers in the family?
BA: Everybody loves it!
JA: Well, our neighbors don't care for it! [Laughs]
BA: We have a soundproof practice room now but before we had our daughter, when we were first married, we had a two bedroom apartment and each room was gutted and had a drumset in it. We slept on the floor on a roll out mattress for three years. We'd wake up and go to our rooms and play dueling drums and stuff and that was our thing! It was a lot of fun. We haven't done dueling drums in a while because when I come home off tour and I've got something coming up, I get on the drums and work out fanatically to practice - like I did for this [Modern Drummer Festival] and then it was to prepare for my drum clinics and the Takin' Care of Business video and next it'll be the Buddy Rich Big Band gig.
JA: And when Billy goes on the road, I get MY practice time.
BA: In the three year period before *NSYNCH, when we were both playing clubs, calls would come in all the time and sometimes I'd answer the phone and they'd say 'No offense, but is Jenie available.' She's got a wicked pocket, man!
TB: Billy, is it tough being out on the road away from home for such long periods of time?
BA: I couldn't do it with out Jenie, She understands where I'm coming from with my obsession to the drums. She understands that when I'm traveling and I'm gone for eight or nine months out of the year, that I'm dedicated to the drums. I'm not out there messin' around and meeting other women or partying. She knows that I'm either listening to the tunes at the hotel or I'm in the back of the tour bus practicing. There's a special connection that we have and a mutual understanding that I couldn't have with anyone else.
TB: Jennnie, I understand that you've put your drumming career on hold to raise your daughter. Will you eventually go back on the road?
JA: I will, eventually, but for now I'm raising our daughter and I play in a local Salsa band.
BA: Yeah, I went out and saw her play. She's even coming out front and singing some tunes, she sounds great!
JA: I've gotten offers to go out on the road but I've had to turn them down for now, until our daughter gets old enough to travel.
BA: A couple of years ago Jenie got a call asking if she wanted to play percussion for Enrique Eglesius and, because I happened to be home for three months, she was able to do it. They loved her playing and everything was going great but Enrique's schedule started getting busy and *NSYNCH was taking off and we made an agreement when our daughter was born that one of us would always stay home and raise her. We weren't going to dump her off on a relative or grandparent and take off. As fate would have it, the phone rang for me first.
JA: As much fun as the Enrique gig was for me, I was playing percussion not drums and I'm really a drummer, so it wasn't too hard for me to give the gig up. For now, Billy's the one who's out there making a career. I know my time will come, eventually.
TB: Do you think you guys will be doing some double drums together in the future?
BA: Oh, we'd love to. Jenie did a song on my video and, whenever she can, she comes to my clinics and sits in and it works out great because *NSYNCH draws a lot of younger girls and it's so cool for them to see Jenie up there playing. She can play and then speak to the girls on a level that I can't. She can explain to them the hurdles that she's crossed that I have no idea because the things she faces I will never face. We hope, in the future, to make it even more of a team thing because it ties in perfectly. But we're always conscious of our daughter and our family and that comes first.
JA: We'll wait until she gets old enough to where she can come along and handle sitting and waiting and that sort of thing.
TB: Billy, I've wanted to ask you about this since I first saw it on your video, Takin' Care of Business. It's the cool "Beat Box" thing that you do with Justin Timberlake of *NSYNCH. It really gives you a chance to show off. How did that routine come about?
BA: It was Justin's idea. He's always done the Beat Box thing with his mouth. We first did it back in 1998, when we did the theater tour before *NSYNCH was known. We gave it a break in 1999 and then put it in the show again in 2000 for the "No Strings Attached" and that's when it got everybody's attention and it was even on the HBO special, which was very fortunate for me.
TB: Do you have a set routine worked out with Justin for the "Beat Box Drum Battle" or is it improvised?
BA: We have a set structure. For example, we'll trade four bar phrases and then two bar phrases and then play the last four bar phrase together or something like that. But the actual patterns are improvised, we just have fun with it and play off of each other, and some nights it works and some it doesn't.
End of Interview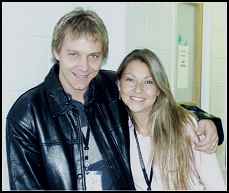 Thanks so much to Billy and Jenie for giving us some insight into life in a dueling-drummer family!
Until next time: Stay Loose.
Become a Free Member of the largest, most Comprehensive Drum Site on the Web
Learn TigerBill's Innovative Tension Free Drumming and take your chops to the next level
Get TigerBill's Free Info-Packed Newsletter, Monthly Chances to Win Valuable Drum Stuff
& Much More...